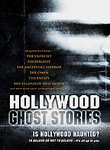 Hollywood Ghost Stories
(
1986
): John Carradine hosts this entertaining anthology of true-life
ghost stories
from the world of cinema.Hollywood's best ghost stories harbor real-life tales of tragedy and eerie movie sets. Delve into the supernatural with narrator John Carradine as he peers behind the scenes of The Exorcist, The Omen, The Amityville Horror and other horror classics. William Peter Blatty, Susan Strasberg, Elke Sommer and other celebrities recount their haunting experiences. Actual footage of an apparition may silence cynics, but in Hollywood, is seeing believing?
An overview of
Hollywood Ghost Stories
, including cast and credit details, a review summary, and more.
Starring:
John Carradine, William Peter Blatty
Director: James Forsher
Genre:
Documentary
Format:
Full Screen ...
Language:
English